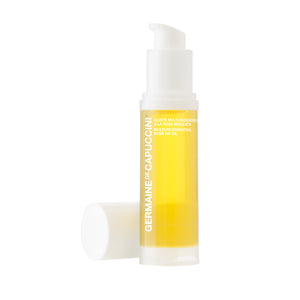 Germaine de Capuccini Multi Regenerating Rosehip Oil
Regular price €44,80 Sale
Multi-Regenerating Rose Hip Oil is formulated with an ultra-light texture to prevent breakouts that are often caused by inferior Rose Hip Oils. Designed to mix with any face or body moisturiser to boost their results or for use on its own to remedy a huge range of skin problems.
Why is Multi Regenerating Rose Hip Oil so popular?
Boosted Results: Formulated specifically to mix with any face or body moisturiser for enhanced results.
Multi-Regenerating: Highly concentrated Vitamin A to regenerate the skin more quickly than regular Rose Hip Oil.
Double the Anti-oxidants: The additional Bixa Orellana is packed with anti-oxidants & carotenoids to reduce inflammation, protect against solar radiation, repair scars and reduce wrinkles.
Ultra-Light Texture: Doesn't cause breakouts on the face like regular rose hip oils can.
Suitable for all skin types.
Paraben free.
Recommended for
Dehydrated skin frequently subjected to extreme climates or chemical agents that unbalance the skin's optimal hydration level.
Skin undergoing surgery chemical peeling, lifting, post-surgical scars.
Skin undergoing oncological treatments (radiotherapy and chemotherapy) presenting alterations such as dryness, redness or itching
Stretch marks to help improve the ones already existing and prevent new stretch marks –  Ideal for pregnant women.
Darkspots related to hormone changes or excessive solar exposures.
All skin types can benefit from the additional anti-oxidants and Vitamin A – boosting all round skin health and rejuvenation.
Multi Regenerating Rose Hip Oil is our absolute star product and is perfect for a huge range of skin problems and any skin type.
Instructions for Use
Apply a small quantity before your usual treatment cream on the area to be treated (face, neck & décolletage or body) twice a day by massaging until its total absorbed,OR apply a few drops of the oil to the usual treatment cream and massage in until fully absorbed.
Ingredients 
Rosa Moschata Seed Oil, Olus (Vegetable Oil), Caprylic/Capric Triglyceride, Parfum
(Fragrance), Bixa Orellana Seed Extract, Benzyl Benzoate.